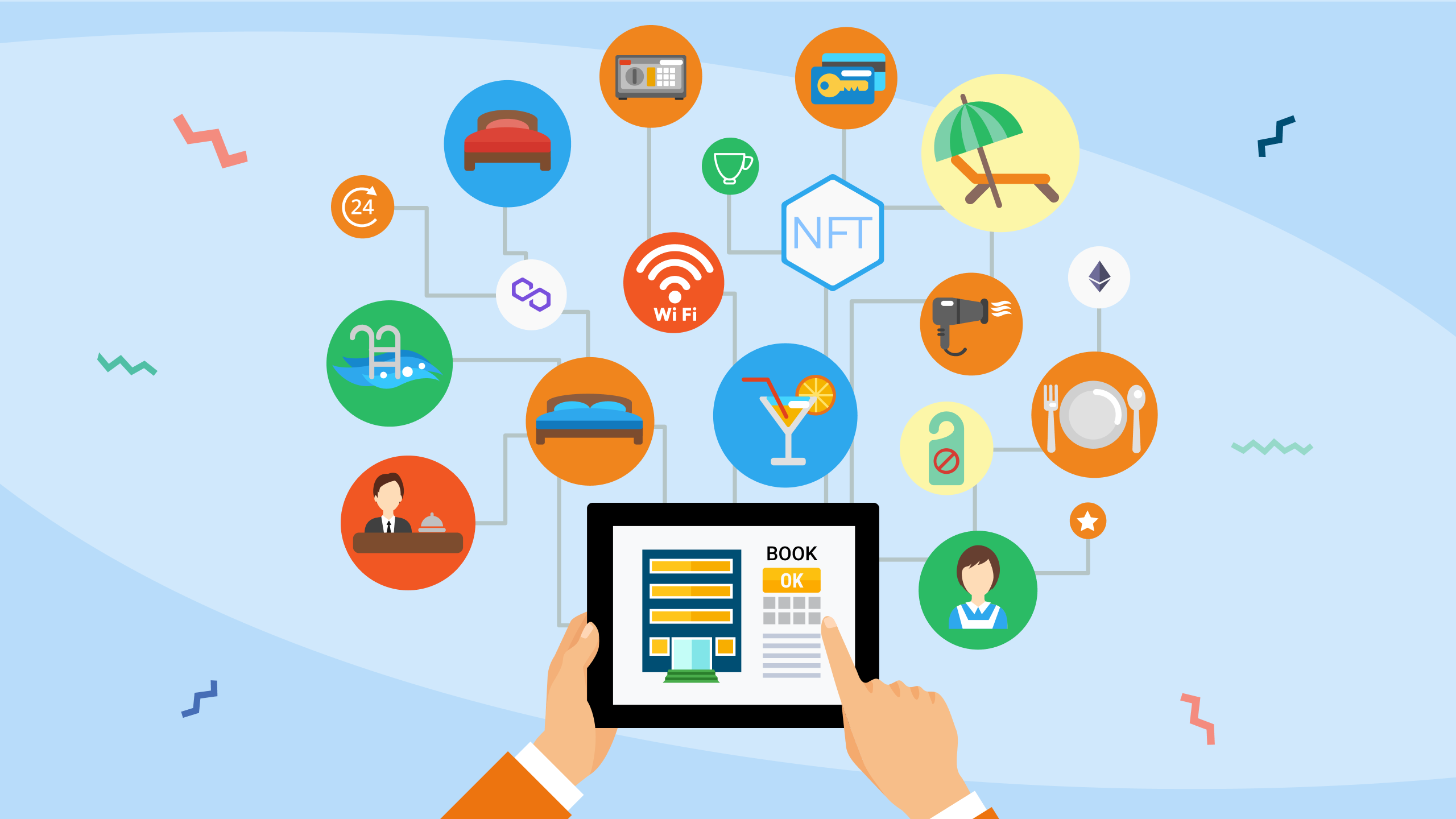 The hospitality industry took a huge hit during the pandemic. Traveling was not an option for most; and for those that had to, it was scary for quite some time. But the industry is coming back in a big way. It's officially the summer travel season, and this is the first time since 2019 that most of us feel safe to get out of town. Memorial Day numbers reflected that, as more than 39 million people got away for the long weekend.
The hotel experience has been forever altered, and now is the right time for hotels, resorts and rentals to make use of NFTs to engage their guests and encourage more business. But before we get into the details, let's take a step back. Why should the hospitality industry care about NFTs? What do JPEGs have to do with hotels and travel? Remember, NFT 2.0 is about utility and engagement. They are the newest marketing tool; it just so happens that they use technology that currently feels a little complicated. (Once upon a time, we all felt that way about email, too. And now we cannot live without it!)
Stay Awhile
There is a lot of potential for utility of NFTs in loyalty programs and access to experiences. Hotel stays and travel make use of these types of programs in order to encourage repeat business and build loyalty. They are also another way guests can be reminded of the memories they made in various locations. In the future, your digital wallet will be a reflection of who you are, just like your social media presence. And you'll be able to reminisce on all the memories you made.
Staying Power
Instead of carrying around that gold status card for an international hotel chain in a physical wallet, loyalty programs will be coordinated through NFTs in a digital one. A traveler's stays can all be tracked, and that token can be the access pass to perks not available to everyone else. That unique loyalty NFT can be tied to the guest's profile, along with all of their preferences and rewards.
Hotels can even create cross-promotional perks where there is already synergy. Many of the big hotels partner with airlines, as air travel usually leads to a hotel stay. Promotions wrapped in NFTs are a natural extension of this already-strong partnership.
Around the World
It's always fun to look at a passport and see the stamps of all the places you've been. Hotels can similarly airdrop NFTs as "proof of stay" for guests. Once they collect, say, ten NFTs, there is a reward or another NFT that bestows status or access to exclusive experiences. It becomes a gamified experience, and guests are incentivized to stay within the same hotel family in order to keep collecting those NFTs. Imagine the grand prize for a guest who collects all of the NFTs!
There is also an opportunity to give guests a digital memento of their vacation adventures. Did a resort coordinate a skydiving excursion or a day spent fishing or scuba diving? You could get NFTs as tokens of your fun experiences.
Opening Ceremony
New properties can create hype and encourage early guests to book a stay by offering an NFT to the first 200 guests through the doors. Were you the first to stay in the corner suite on the 20th floor? You could get an NFT for that (and bragging rights), plus a discount on your next stay.
Remote Work (and Play)
The pandemic accelerated many trends, including remote work. Soon, the world will have a generation of workers who are native to this remote-first way of life. "Bleisure" travelers are a growing category, and many young people have used this flexibility as a chance to work from places they may otherwise not be able to visit. With that are many opportunities to entice them to lug their laptops to far-flung destinations. Work hard during the week; play hard on the weekend.
Hotels can glean a lot of information from talking to or simply observing their guests. Want to make that remote worker's day? You could send them an NFT on a Friday afternoon for a free drink on the house anytime that weekend. They'll not only order the drink, but probably some snacks, and maybe even a full meal! It's upselling without the hard sell. The guest feels seen and appreciated, and will probably be back for more.
Puttin' on the Ritz
There are some really fun possibilities for luxury hotel brands to delight their guests. Notice that one of your loyal customers stayed at a property in LA and enjoyed a shopping excursion? You can airdrop them an NFT for a discounted stay the next time, and throw in some ride share credits so they can more easily get around town. Have a guest who loves the theater? Tempt them to come to New York with an NFT that gets them access to an exclusive package for "Broadway and Bubbles in the Big Apple." Guests who get three services or more at the in-house spa get a discount to purchase a plush robe so they can bring a little part of that experience home with them.
AirNFT
Exploring new places and foreign countries is one of the many thrills of travel. Why not gamify that experience for wanderlust travelers? Airbnb could not only endow its "Superhosts" with an NFT of their status, but it could also incentivize its guests to travel more. Perhaps staying in an Airbnb property in five European countries will earn the traveler an NFT for a discounted stay in a sixth country nearby. Rinse and repeat for regions and customize as necessary. Now that Airbnb has rolled out its new property types, guests can search for rentals like treehouses, those with notable design or architecture, or the really fun "OMG!" (Travelers can let the property type determine the destination, and not the other way around.) Airbnb "Superguests" could receive an NFT that endows them with exclusive benefits, experiences, and discounts with vendors in the vicinity of their stay. This NFT not only becomes an access pass, but a point of pride. The more you travel, the more you're rewarded.
At Your Service
As the hospitality industry continues to ramp up, it's important that hotels, resorts and rental services think about new ways to engage their user base. Digital assets are the calling card of the future, and Chainstarters works with its clients to create an NFT strategy that leverages utility and promotions that make sense for your business. If you want to make NFTs part of your hospitality program and give your guests an experience like no other, Chainstarters is at your service! Our no-code solutions mean that your digital assets are a powerful marketing tool, not an engineering challenge.